Is Emily Maynard & Jef Holm's Engagement Just A Bachelorette Business Deal?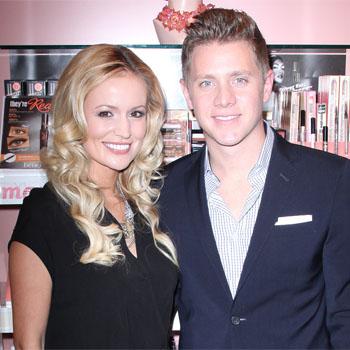 By Debbie Emery - RadarOnline.com Reporter
For love or money? Emily Maynard and Jef Holm look doe-eyed and in love on-screen, but a shocking new report claims that the former Bachelorette and her fiancé made a deal to fake their engagement for cold, hard cash.
Since being rocked by a scandal involving sexy texts between Emily and another man, the couple have kept a united front in an attempt to downplay any rumors of a rift in their relationship; however Jef's ex-girlfriend, Kaylee Shepherd, has dished the dirt on Holm's impressive acting skills.
Article continues below advertisement
From sickly sweet tweets to cheesy photo ops, the former flame claims he is just putting on a show to bank in half of Maynard's Bachelorette salary, which is estimated to be $150,000.
Shepherd, 21, who was dating Holm before he left to be on the show, revealed that the pair had a raunchy reunion in a Utah hotel on September 16, where after kissing her, he admitted he and Emily had plotted to cover up her sexting scandal to maintain her squeaky clean image, and in return she promised to share the booty with him.
"Jef said their relationship isn't what it seemed, it's basically for TV," the Utah Valley University senior told Us Weekly. "He said, 'If I was happily engaged, I would never have texted you.'"
Shepherd first met Jef in the summer of 2011 when the pair were partying on a houseboat on Utah's Lake Powell. "We hit it off quickly. He's outgoing, confident and smooth."
They were soon spending time together every week, although she admits they weren't "officially boyfriend-girlfriend," but she was still thrown for a curveball when he said he had been picked for the show even though he reassured her he was "only doing it for the experience."
Article continues below advertisement
The couple continued dating until he left for taping, and then the next time Kaylee heard from him, he was engaged!
After months of silence, Jef began sending persuasive text messages and Shepherd was finally convinced to go and meet him where he dropped the bombshell that his reality TV romance was "not what it looks like," telling her: "I thought I was in love, I thought I had found the One, but things have changed."
According to Us Weekly, he then told her that the fight with Emily over inappropriate messages to a "professional football player" (who has been rumored to be Oakland Raiders back-up quarterback Matt Leinart) was true.
In a dramatic face-off with his faux fiancé, Jef told Maynard that she had two choices: go to the media and tell them the truth, or give him half the money. She chose the latter.
Jef and Kaylee made plans to see each other again, but then an exclusive report on RadarOnline.com that they had been spotted at Burger King together spooked the reality Casanova and he played dumb the next time she texted him, replying: "We haven't seen each other for months. I can't see you. I'm engaged and really happy with Emily."
Article continues below advertisement
The ruse between the Bachelorette couple could go one for months, "It seemed like he'd be in it for a while," revealed Shepherd. "He gets to hang out in Emily's sick house and sleep with this beautiful girl."
Plus, according to the contract with ABC, if they stay together for two years they then get to keep Maynard's $68,000 Neil Lane engagement ring!
Meanwhile, as RadarOnline.com previously reported, the next man in the hot seat on season 17 of The Bachelor will be Sean Lowe, the 28-year-old business man from Dallas, Texas, who Emily passed over for Jef.