Who's Lying? Emily Maynard And Jef Holm Take On His Brother In Cheating Scandal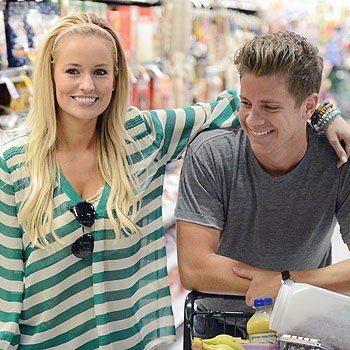 Somebody is lying in the Bachelorette cheating scandal and it's pitting family member against family member and also making for a very controversial start to Emily Maynard and Jef Holm's relationship.
In a new interview, Emily's fiance Jef has responded to his brother Mike's accusation that Emily is cheating, saying Mike "has a history of doing hurtful things to the family."
The cheating accusations surfaced after the Holm family, Emily and her daughter Ricki vacationed in Pawley's Island, South Carolina last weekend. The report, quoting an anonymous source and published in a weekly magazine, claimed that Emily was trading sexy texts with another man. But if there was trouble between Emily and Jef they sure didn't show it – stepping out together in public and looking very affectionate after the article was published.
Article continues below advertisement
That's when the same magazine produced Mike as a source talking on the record and "confirming" the previous report, although it left many people wondering if Mike was also the anonymous source.
Now Mike's credibility is being destroyed by his brother, who says "if everybody knew the history he had with our family, no one would be surprised."
Jef says his brother has "been cut off from a lot of family things because he's so dishonest."
EXCLUSIVE PHOTOS: Bachelor Reunion Pics
"My family all says they are shocked, and obviously I'm shocked," Jef told People. " This whole story is 100 percent false.
"I like to give Mike the benefit of the doubt and think he's changed, but obviously he hasn't. He has a history of doing hurtful things to the family."
After the report surfaced Jef says he called all his family members. "I called every single member of my family and asked them if they'd done anything, and Mike promised me he hadn't."
Article continues below advertisement
Emily also says the accusations are "100 percent not true."
After the magazine's report from the anonymous source was knocked down, Mike suddenly spoke on the record to the same outlet and said: "I can tell you that it's all 100 percent true. I was there and I heard the fight and watched the whole thing go down, Emily leaving and everything. I love my brother very much and, like the rest of our family, I just want him to be happy."
Despite the seeming betrayal of his own brother, Mike told the outlet that he hopes Jef and Emily's romance continues without turbulence.
"We all love Emily, too. Mistakes happen, we all get that," Mike said. "I hope they can work it all out."
But it looks like the only thing that's certain is Mike is going to have to work things out with his brother.
RELATED STORIES:
On The Rocks! Emily Maynard & Jef Holm 'Have Already Come Close To Breaking Up'