Bachelorette Emily Maynard & Fiance Jef Holm Pack On PDA After Cheating Accusations!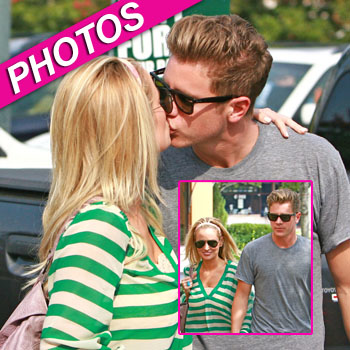 By Alexis Tereszcuk - RadarOnline.com Entertainment Editor
Bachelorette Emily Maynard has only been engaged for a few months but as shocking details surface of a cheating scandal that includes racy texts and explicit photos she is doing major damage control by gushing about how happy she is with her fiance Jef Holm.
According to a new report, Emily and Jef were on vacation with his entire family and he was suspicious that his fiancee was keeping something from him so he checked her cell phone where he found racy text messages that she had been sending to another man.
Article continues below advertisement
"There were texts and pictures: 'Let's do this and that with each other,'" a source told Us Weekly and said that the two had a major screaming fight after he found the illicit messages.
Jef's family tried to calm him down but he was furious and screamed at her "Pack your sh*it and get the f**k out."
The source said that Jef's worst fears were confirmed when he found the "sexual texts and photos to an unidentified man," and that he started yelling in front of Emily's six-year-old daughter Ricki.
"Emily was crying and saying, 'Please don't do this in front of Ricki.' Ricki was terrified."
Emily, who has been trying to get a reality show based on her upcoming wedding, has been in full on damage control mode since the report surfaced. She was just photographed kissing Jef and has been sharing with the world personal pictures of her fiance with her daughter and writing loving quotes.
"Love him even now," Emily wrote on the picture she posted with Jef and a cat and even joked about making him watch a cat video.
Article continues below advertisement