From Here To Reality! Emily Maynard & Jef Holm Go Public With Their Love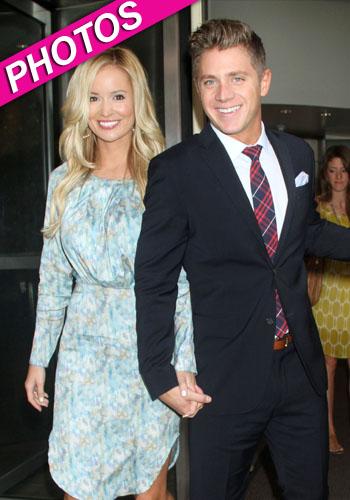 Article continues below advertisement
As RadarOnline.com previously reported, Emily has big plans to move to Hollywood to continue her career on television, possibly with another ABC reality show.
"Emily wants to live where all the action is and that means Hollywood," a source said about the 26-year-old single mother.
EXCLUSIVE PHOTOS: Bachelor Reunion Pics
"Emily wants to do a spin-off show about the wedding planning and build a brand. She would love to have her own talk show one day and she has instructed her manager to look into all potential offers and make it happen. Emily is one determined young lady, is very bright and she always gets what she wants."
Emily is the first single mom in the show's eight-season history, and her 6-year-old daughter Ricki has been a featured topic on the show. Emily's fiance and baby daddy, NASCAR driver Ricky Hendrick died in a 2004 plane crash while she was pregnant.
"Emily is really excited to get the date, location and all of the details set so that she can marry Jef and having it air on TV fits in perfectly with her plans," the source said.