Emily Maynard Cheating Controversy Grows: Jef Holm's Brother Says It DID Happen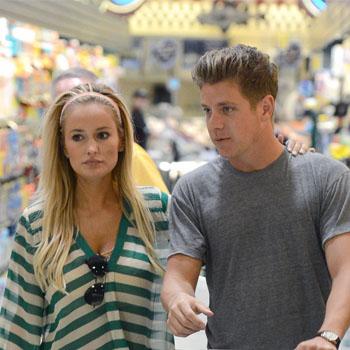 Did she or didn't she?
Emily Maynard and fiance Jef Holm both say there is no truth to reports that he caught her cheating, but now Jef's own brother says it did happen!
Jef proposed to Emily on the season finale of the hit reality show The Bachelorette and she happily accepted the stunning Neil Lane sparkler he gave to her, but on a recent vacation with his family he apparently was suspicious of his fiancée and checked her cell phone where he reportedly found racy text messages and photos sent to another man. When he confronted Emily, they had a huge screaming fight and she ended up leaving the vacation home with her daughter Ricki.
Article continues below advertisement
"I can tell you that it's all 100 percent true," Jef's brother Mike Holm told Us Weekly.
Emily tried to deny the report, releasing a statement that said "It's one hundred percent not true," and Jef echoed her denial, saying "It's funny to me. We were in a gated community in a private home with just my brothers and sisters. It's just bogus a 'source' would say we were fighting. None of that is true."
EXCLUSIVE PHOTOS: Bachelor Reunion Pics
Mike confirmed that he was at the family home and witness the fight where Jef told Emily to pack her "sh*t and get the f**k out!" of the house and that she left the home in tears with her daughter in the middle of the night.
"I was there, and I heard the fight and watched the whole thing go down, Emily leaving and everything."
Jef must be shocked that his brother has confirmed the story that he and Emily so adamantly denied, even going so far as to post a picture on Twitter of the couple with 7-year-old Ricki and Emily writing, "The happiest I've ever been in my life with my two favorite people in the world. I love you to the moon!"
Article continues below advertisement