On The Rocks! Emily Maynard & Jef Holm 'Have Already Come Close To Breaking Up'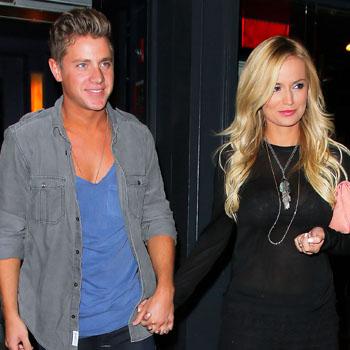 Article continues below advertisement
As RadarOnline.com previously reported, on a recent vacation with his family Jef, 27, became suspicious of Emily and checked her cell phone records, where he reportedly found racy text messages and photos sent to another man.
Holm's brother Mike even confirmed that the pair had a heated fight that ended with him telling Emily to pack her "sh*t and get the f**k out!" of the house.
Since the 26-year-old Bachelorette star and her final pick got engaged on the ABC dating show last month, their love affair has turned from sweet to sour and they have been on the verge of splitting, said the insider, revealing that the single mom from Charlotte, North Carolina is frustrated with her new fiance.
"She says Jef doesn't like to do anything. She says she thinks he's boring. It's funny, because he says the same thing about her. He's been telling people, 'I know she has a kid and everything, but she never wants to go out.'"
Meanwhile, former Bachelor contestant Maynard thinks that he should be grateful to her for thrusting him into the spotlight! "I heard her say, 'I made him famous,'" added the source.
Article continues below advertisement
Both Jef and Emily are still claiming that there isn't any trouble in paradise, but their pal thinks they are simply trying to hide their troubles from the public eye.
"Right now, I think they're in denial mode because they're embarrassed," the insider told WetPaint. "But I don't know if they'll be able to recover from this."
RELATED STORIES:
From Here To Reality! Emily Maynard & Jef Holm Go Public With Their Love