Double The Cuteness! Conjoined Twins Separated After Grueling Life-Changing Surgery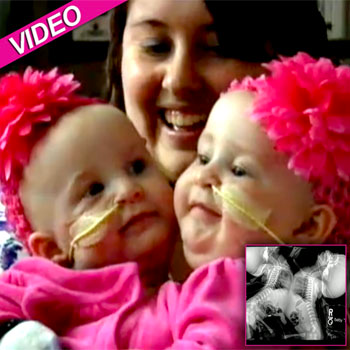 Article continues below advertisement
Up until a few days ago the gorgeous 10 month old girls had never been out of the hospital, and while lucky Allison has been discharged and will spend the holidays at home, sister Amelia will have to stay there until the new year.
The twins were born on March 1 via cesarean section and spent the first seven weeks of their lives in CHOP's newborn/infant intensive care unit because they shared a chest wall, diaphragm, pericardium and liver.
Mom Shellie Tucker is obviously excited to finally be getting her children home, and expressed her gratitude to the dedicated staff who have cared for them. "Greg and I are thrilled that our daughters have been given this remarkable gift by the amazing team from (CHOP)," said Tucker, from Adams, New York, in a statement.
Tests during the 20th week of her pregnancy revealed that Shellie's babies were going to be conjoined and doctors at the Center for Fetal Diagnosis and Treatment realized that they would be great candidates for separation surgery.
Article continues below advertisement
"(The doctor) said, 'You're having twins' and my heart dropped. And then she said, 'I think they're connected,' and my heart dropped again," Tucker told ABC News. "Their recommendation was to terminate."
The caring couple, who already have a two-year-old son named Owen, decided to give the twins a fighting chance and the minute they were born they knew they had made the right choice. "I instantly said they were gorgeous. They both held on to my fingers, came out screaming," said their proud mom.
Big brother Owen made the hospital ward into his playroom before his sisters' life changing surgery, but it wasn't all fun and games for the Tuckers, who were naturally worried about what would happen when the girls were parted.
One way the doctors prepared for the surgery was by practicing on two dolls sewn together. "The actual walk-through started with actual baby dolls that didn't really look as cute as the girls but helped us out," explained Dr. Holly L. Hedrick.
Article continues below advertisement