Exclusive
Toby Keith Stiffs Children's Hospital Charity Event, Refuses To Sign Guitar, Says Fundraiser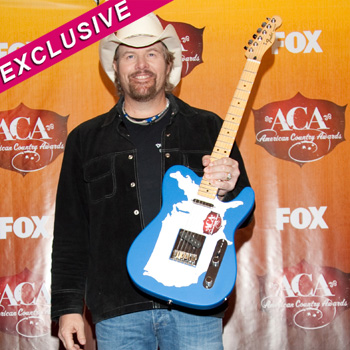 Article continues below advertisement
"One of the radio station program directors got meet-and-greets and permission to get a guitar signed for St. Jude's 2013 radio fundraiser. People donate to win a guitar signed by their favorite artist on the air and the money goes to help the children at St. Jude," Joel exclusively told RadarOnline.com.
"But when we got face-to-face with Toby in the meet-and-greet line he refused to sign the guitar and his crew told us to leave or else they were going to call security."
Joel tells RadarOnline.com he's been working with local radio and television stations doing these fundraisers for more than 20 years and has never had this happen before.
"It would have taken him 10 seconds to sign that guitar to help raise money for children who are terminally ill. I'd like to think he was not that type of guy," Joel said.
"This is the first time ever that anyone has refused to sign a guitar for us. We promoted Toby's concert to help sell more tickets, and I'll never do it again."
Article continues below advertisement
Interestingly, the country singer is the name behind The Toby Keith Foundation, which supports cancer patients and the OK Kids Korral, a home for children and their families to stay while they are undergoing treatment for cancer.
"I know of no requests like that at that show," Toby's road manager, David Milam, told RadarOnline.com when asked for comment.
"If it was asked of us for Toby to sign something for St. Jude or any other LEGITIMATE charity, we always do so. For them to think that Toby would disregard a great charity like St. Jude when he has his own foundation that supports and has the same goals is just stupid."