Anderson Cooper Interviews Conjoined Twins; Talks About Trials And Tribulations Of Life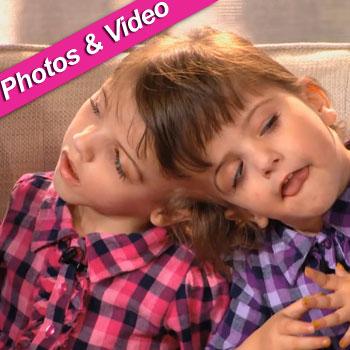 Anderson Cooper sat down with two sets of conjoined twins for a fascinating interview that will air Wednesday on his daytime talk show Anderson.
Cooper spoke with 4-year-old Tatiana and Krista Hogan, who are joined at the head and are the only known conjoined twins to share a particular and critical part of the brain. Amazingly, it's been claimed that the way their brains are connected allows one twin to taste what the other is eating, and one twin to see what the other is looking at, even when they have their eyes covered.
Article continues below advertisement
Their parents, Felicia Simms and Brendan Hogan talk candidly about the trials and tribulations of raising the girls and how they cope with society's sometimes unkind reaction to them.
Perhaps not surprisingly, Felicia revealed that it's usually adults, rather than children, who have a difficult time accepting Tatiana and Krista.
"The children catch onto them like there's no problem and they're like, 'Oh I want to play with them,' and then if there is a parent who doesn't want them playing with their children they'll actually take their children away from them," she said. "And it's like, do you realize what you're teaching your kid. You're teaching that child that it's not right to be different."
Cooper also talks to separated twins Josie and Teresa Alvarez and their parents. Ten-year-old Josie and Teresa were also joined at the head but underwent a pioneering operation nine years ago after it was ascertained they would not be able to live if they weren't separated.
It has been ascertained that it is not currently feasible to safely separate Tatiana and Krista Hogan, but they continue to live happily (most of the time!) joined together.
Article continues below advertisement