Anderson Cooper's Mom, Gloria Vanderbilt, Talks About His Brother's Suicide: 'I Thought I Was Going To Jump Over After Him'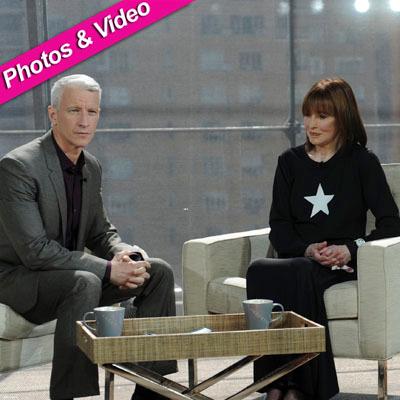 Following his recent ground breaking interviews with famous families who have coped with tragedy, Anderson Cooper has turned the attention to his own family in an emotional interview about his brother's suicide, with his mother, Gloria Vanderbilt.
Twenty years after Carter Vanderbilt Cooper took his own life, Anderson sat down with Gloria to recall the tragic day that his 23-year-old brother flung himself from the 14th floor terrace of their New York penthouse apartment.
Article continues below advertisement
In the rare interview, which airs Monday on Cooper's syndicated talk show, Anderson, the 87-year-old Vanderbilt heiress opened up to her CNN star son, who asked her: "Do you still think about that day?"
"All the time, I still run through it. There was a moment when...he did not jump," explained the soft-spoken former fashion designer. "He was sitting on the wall thirteen floors up, on the balcony. With one foot on there and one foot hanging down, he kept looking down.
"I kept begging him too...and then when he went, he went like an athlete and hung over the wall like this. I said, 'Carter, come back,' and for a minute I thought he was going to come back, but he didn't. He let go. There was a moment when I thought I was going to jump after him. But then I thought of you and it stopped me from doing that."
The Anderson Cooper 360 host, who was 21 when Carter died on July 22, 1988, had clearly heard the story many times before as he listened and nodded with empathy, but the heartfelt revelation will strike a chord with viewers of his new talk show, which premiered earlier this month.
Article continues below advertisement
"There is this word 'closure' that they talk spoke so much about today, but there's never closure on something that happens like that," explained Vanderbilt.
"It's a 'TV word,'" Anderson agreed.
"You can never get over it but you learn to live with it," concluded his mother.
As RadarOnline.com previously reported, Anderson recently discussed Carter's death in relation to his interview with cast members of the Real Housewives of Beverly Hills about Russell Armstrong's suicide.
"I had a brother that committed suicide and that was more than twenty years ago and I'm still trying to figure out why he committed suicide," Cooper said. "I think anyone who survives suicide, that's one of the horrible things about it, you can't pinpoint one thing necessarily always that did it.
"You can't put yourself in someone else's mind," Cooper said, "a mind that is not acting rationally or not thinking rationally."
Other guests joined Anderson on Monday's show, including Diane Von Furstenberg, Kathy Griffin and Gloria's favorite singer, Judy Collins, singing Amazing Grace - the same song she performed at Carter's funeral.