Anderson Cooper Gets Tan With Snooki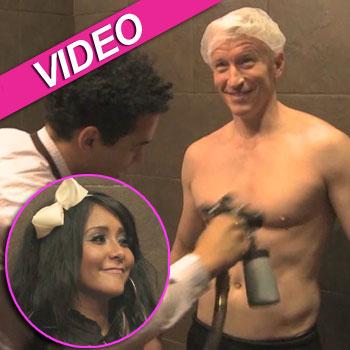 He has been to Afghanistan and Iraq, fearlessly traveling to the most dangerous, war torn regions in the world.
But, Tuesday, in one of his most biting reporting assignments to date, Anderson Cooper put himself in the careful hands of Snooki and got — what else — tan.
With summer having drawn to a close the Silver Fox has been looking a little pasty of late, and who better to help rectify the problem than the Jersey Shore Goddess of tan?
Article continues below advertisement
Snooki promised Cooper, 44, via Twitter, that she would take him for his first ever spray tan, and she was good for her word, dropping by New York City's Beach Bum Tanning salon.
"Do you have a 'Situation'?" Snooki asked, referring to her cast mate's highly chiseled and defined abs. Unfortunately Anderson does not, but he still managed to impress the Guidette when he stripped off his shirt.
"I had no idea 'Mr. Anderstand' had muscles," Snooki gushed. "When he took off his shirt, he has this huge, like, peanut muscle. It was cool!"