Trouble, What Trouble? Ice-T & Coco Cuddle In Vegas Amidst AP. 9 Photo Scandal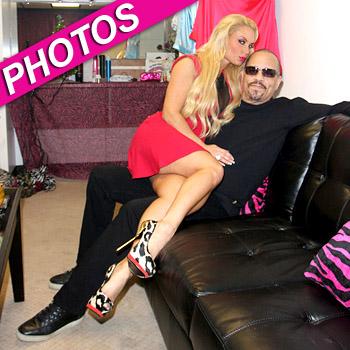 Trouble, what trouble? Ice-T and Coco put on a united front in Las Vegas Friday, cuddling backstage at her Peepshow performance at Planet Hollywood, and RadarOnline.com has the pics.
The couple was also photographed playfully pumping iron at the fitness center in the Planet Hollywood hotel and also doing some shopping.
It appears the rapper, 54, may have travelled to Sin City to be by the side of his 33-year-old bombshell wife, whose real name is Nicole Natalie Austin. No doubt, he probably wanted to keep an eye on her, after she was snapped getting cozy with AP.9 earlier this month.
Article continues below advertisement
As RadarOnline.com previously reported, the bootylicious reality star turned Vegas showgirl earned the ire of her hubby after photos surfaced of her snuggling up next to the rapper, and she was quick to apologize for her "inappropriate behavior" -- but now sources are saying that AP.9 is boasting he has evidence that their encounter wasn't as innocent as Coco has claimed!
"AP.9 has been bragging that he has photos of Coco with him in a private room in Vegas, and that in some of them she's on a bed, totally naked," a source close to the situation tells RadarOnline.com
"He's been putting feelers out to see if people want to buy the pictures, and he's claiming they're really salacious and that a LOT more happened with Coco than just them posing in a night club," the insider added.
As previously reported, Ice T went on a Twitter rampage after seeing the already released photos, which included a shot of AP.9 nuzzling Coco's neck as they posed sitting on a chair together.
Article continues below advertisement
In another photo, the rapper is caught clutching Coco around the waist, while planting a kiss on her cheek. In yet another, AP.9 and Coco look like a couple in love, as he grabs her from behind and she nestles into his arm as it locks her close to him.
During his Twitter rant, Ice T posted a series of comments that were later deleted, raging about the photos: "Don't get it twisted...I'm not happy about this s***."