What Made Ice Lose His Cool? Steamy Photos Released Of Coco Getting Cozy With Rapper In Las Vegas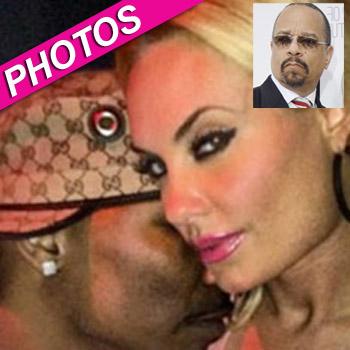 They are the steamy photos that made the usually cool Ice-T go through the roof.
And now RadarOnline.com can bring you the pictures of the hip-hop star's wife Coco Austin cozying up to rapper AP.9 in Las Vegas.
As previously reported, the Law & Order: SVU star had a Twitter meltdown after MediaTakeOut.com published the photos of his buxom wife in seductive poses with the up and coming musician.
Article continues below advertisement
And while their hit reality TV show is called Ice Loves Coco the photos seem to suggest that Coco, at the very least, likes AP.9!
In the series of pictures the 33-year-old blonde is seen snuggling up to the young rapper who seems to be lapping up the attention.
In one shot, AP.9 nuzzles Coco's neck as they pose sitting on a chair together. In another he clutches her around her waist, while planting a kiss on her cheek. In yet another picture AP.9 and Coco look like a couple in love, as he grabs her from behind and she nestles into his arm as it locks her close to him.
Not surprisingly, Coco's 54-year-old husband was not impressed. And the gangsta rapper immediately took to his Twitter page to express exactly how he felt about the suggestive pictures.
In a series of comments that were later deleted he wrote: "Don't get it twisted…I'm not happy about this s***."
He also added: "Most of them are disrespectful and in bad taste. She's made me look…and feel like s***."