Exclusive
Kanye West Takes Kim Kardashian To Visit Mother's Grave On Five Year Anniversary Of Her Death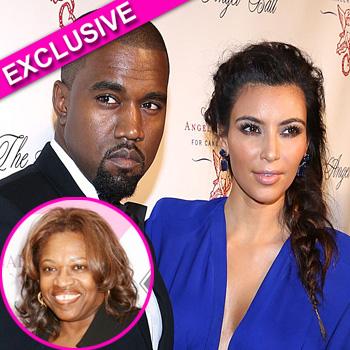 Five years after his mother's tragic death, Kanye West feels that he finally has a woman in his life worth bringing to her grave.
After spending Thanksgiving with the Kardashian clan, the rapper brought Kim Kardashian back to his mother's resting place in Oklahoma City to spend a meaningful moment at her graveside and to meet his family, almost exactly five years after she was buried, and RadarOnline.com has the exclusive details.
Article continues below advertisement
"Kanye brought Kim to Oklahoma City the day after Thanksgiving to pay respects to his mother and to meet his mother's side of the family," a source exclusively tells RadarOnline.com.
"This was her first time meeting them."
The high-profile couple managed to go undercover for the most part on their brief visit to the Midwest, flying out of LAX on Friday and jetting out of Oklahoma City on Saturday, RadarOnline.com has confirmed from multiple sources.
"This was a really monumental moment for Kanye because he adored his mother," another source tells RadarOnline.com.
"He wouldn't have brought Kim there unless he was completely in love with her."
Donda West, Kanye's beloved mother, passed away at the age of 58 in November 2007 due to complications from plastic surgery procedures, and was buried in her hometown later in the month.
RELATED STORIES:
Kim and Kourtney Kardashian Go Jogging In Full Hair And Make-Up
Kris Jenner Has Big Plans For Kendall & Kylie's Fashion Line, Determined To Rival Jessica Simpson!