Ice-T Melts Down Over Photos of Wife Coco Kissing Another Rapper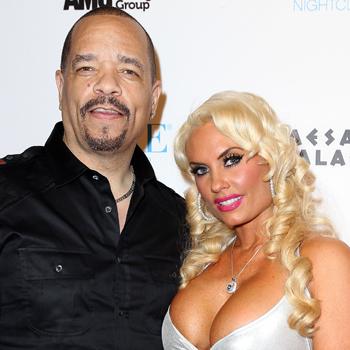 Ice-T is having a meltdown about pictures of his wife, Coco, kissing another rapper!
And now the married stars of the E! reality show Ice Loves Coco might be on thin ice after photos have surfaced on MediaTakeOut.com of Coco looking cozy with rapper AP.9. In the sexy pictures, taken in Las Vegas where Coco performs in the topless revue, Peepshow, the buxom blonde kisses AP.9 on the side of the face and the rapper nuzzles her neck.
Article continues below advertisement
Ice-T, who wasn't with his wife in Vegas, hit the roof over the photos, Tweeting, "Most of them disrespectful and in bad taste. She's made me look..And feel like s---."
The reality show star, who later deleted his Tweets, had also turned to Twitter to call Coco's actions "misconduct," not fitting for a married woman. Ice-T also dissed AP.9, saying he didn't know who he was.
Ice-T raged about his wife's playful behavior with another man: "Don't get it twisted...I'm not happy about this s---."
He signed off of the Twitter topic by telling fans to ask Coco about the incident. She responded on Twitter "Ice is right, the pics I took with this man were in poor taste & I disrespected my husband however the pics were the only thing that happened." She reiterated the point later, tweeting, "please guys I'm happily married, sometimes fans & friends take silly pics it's harmless." Later Coco sighed via Twitter, "I feel so sad the bottom line is I love Ice & can understand why he's upset there's no excuse for my actions. I'm so sorry baby."
Article continues below advertisement
The couple, who renewed their wedding vows last year at a big Hollywood party to mark their ten-year anniversary, recently appeared to be thinking about having a family. As RadarOnline.com reported, Coco, 33, told Ice-T on their show she wants to freeze her eggs so she can have a baby with him later.
RELATED STORIES:
Battle Of The VERY Big Butts! Coco And Phaedra Parks Compete In Booty-lympics
Who Needs CNN? Roving Reporter Coco Shows Off Her Assets & Reporting Skills Live From Hurricane Sandy