Premonition Before The Sexy Photo Storm! Coco Predicts Ice-T 'Will Fall Apart' While She's In Las Vegas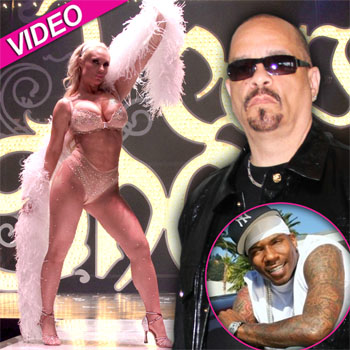 Article continues below advertisement
Coco, who has been firmly by her husband's side throughout their marriage and close to the set of his hit television show, Law & Order: Special Victims Unit, shares her concern with her sis that her new gig across the country will create stress for him.
"This makes me realize that Ice needs me more than ever by his side in New Jersey," Coco says to her sister, Kristy Williams, during their heart-to-heart.
"Do you think I made the right decision? Do you think I should have just not taken the job?"
"No, here's the thing," Kristy responds. "I think it would have put a stress on your relationship regardless even if you turned it down because you would have resented Ice."
"I'm more worried about Ice than I am myself," Coco admits. "When I am in Vegas that's all I am going to concentrate on is working, working, working. I feel like Ice is so into a certain lifestyle here that when I am gone he will maybe fall apart."
Article continues below advertisement
"The truth is he wants this for you Coco. He never once tried to hold you back, and I believe that if you have the kind of bond that you and Ice have, and I have seen it, you can make it through anything."
Fulfilling her worst fears, after photos of Coco cuddling up to AP.9 surfaced, Ice did indeed fall apart, going on a tweeting frenzy.
Meanwhile, as RadarOnline.com exclusively reported the Las Vegas based rapper has boasted that their encounter went beyond a club cuddling session, and that he has photos of them together in a private room with Coco totally naked.