Exclusive
Ariel Winter's Mom Asked Publicist To Leak Nude Photos Of Her Other Daughter!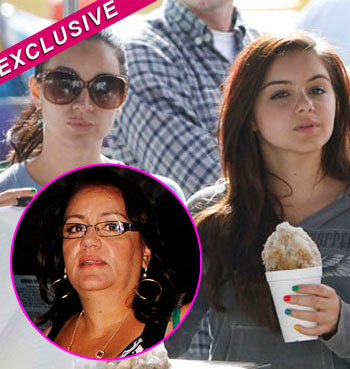 Article continues below advertisement
"Crystal Workman, the mother of Ariel Winter, wanted me to represent her and leak nude photos in the media of her other daughter Shanelle Workman," Jonathan exclusively told RadarOnline.com.
"In all my years of being a publicist, I have never seen anyone stoop as low as wanting to sell out and destroy the reputation of her own daughter. Crystal said she wanted the public to see Shanelle for who she really was and smear her daughter in attempts to try and get custody back of Ariel."
It's a disturbing new twist in the already tragic story of the Modern Family star, and on Monday Crystal even had her attorney file court documents asking a judge to summon a complete income and expense declaration from Shanelle, 34, including bank statements, tax returns and source of income.
"Crystal has called me nonstop in the last 48 hours, trying to get me to leak these pictures," Jonathan continued, adding that he is completely against the notion of leaking the nude photos.
MORE ON:
Celebrity Justice
Article continues below advertisement