Brave Not To Shave! Woman Grows Beard To Support Movember Cancer Research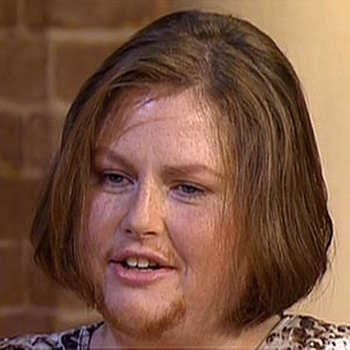 By Debbie Emery - RadarOnline.com Reporter
While millions of men around the world sprout mustaches this month to support the Movember campaign to raise money for cancer research, a British woman decided to put her rare medical condition to good use by growing a beard!
Siobhain Fletcher, 36, of Leek, Staffordshire in England, has bravely suffered a lifetime of curious stares and ridicule due to polycystic ovary syndrome (PCOS), which leaves her with high levels of testosterone. She was finally diagnosed 12 years ago when she and husband Jim tried to start a family, reported the Mirror.co.uk.
Article continues below advertisement
The housewife normally has to endure daily shaving sessions to hide the facial hair that has been growing wildly since puberty but for the month of November she has thrown away her razor to fundraise for men's health issues.
"If I can go out on the street with a beard or moustache for a month, then surely men who are experiencing health problems can go and get themselves tested," said Fletcher.
"I think it is awful that some men are too embarrassed to have a simple test which could save them from prostate or testicular cancer," she explained.
"My facial hair used to contribute to depression and anxiety but this is for a good cause and I want to highlight that people shouldn't judge you on what you have on your face, it's what is inside that matters."
Fletcher originally tried to ignore the pesky whiskers thinking it was just "a normal problem," until doctors found a cyst when the couple was trying to have a baby and revealed that it was PCOS.
Article continues below advertisement
As the hair grew thicker, the manager of equestrian supplies tried waxing, burning cream, then electrolysis and laser treatments, but finally resorted to shaving it every other day.
Instead of hiding her ailment, she is now relishing in her uniqueness and even considering having a 'Big Shave-Off' at the end of the month to add to the approximately $2,500 she has already raised.
"It helps people get checked for prostate and testicular cancer, and hopefully people will, instead of going to a funeral, be going to a remission party."