Religious Cult Attack Fellow Amish, Cut Their Hair And Beards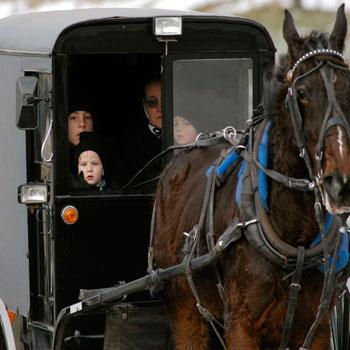 The Amish people are known for their peaceful nature, which makes the attacks by a group of religious cast offs even more shocking, and RadarOnline.com has all the details of the bizarre crimes.
Members of a number of families who were disowned by the mainstream Amish have reaped revenge by cutting the symbolic beards off the men and the hair from both men and women, reported MSNBC.com.
Article continues below advertisement
The vicious attacks took place in the heart of Ohio's Amish country, which is home to one of the biggest populations of the religion in the U.S., and are aimed to degrade the victims without hurting them.
According to a Jefferson County Sheriff's report, a 57-year-old woman blamed her sons and son-in-law for an attack that left her husband's beard raggedly and short, and hacked her hair off, leaving bare patches on her scalp.
"They did this to me," she told the police, claiming that the wayward children were part of a cult.
Amish-on-Amish violence "is extremely rare," Donald Kraybill, a professor at Elizabethtown College and an expert on Amish life, said in an email to the Associated Press, explaining that it is religious principle for the men to have long beards and the women not to cut their hair.
As shown in the 1985 Harrison Ford film, Witness, the Amish are very reluctant to turn to the police for help even when it is their own people who are threatened, a trait which has severely hampered police investigations.
Article continues below advertisement
"You see this crime being committed, and I'm sitting here with my hands tied. I can't do a thing," explained Sheriff Fred Abdalla.
The trouble is centered around 18 Amish families who the police have been aware of before, due to a threat against the sheriff and a relative convicted of sexual contact with a minor, according to MSNBC.com.
RELATED STORIES:
Amish Gone Wild! Eight Men Arrested And Booked In Kentucky: See The Mug Shots