Take It All Off! NFL Cheerleaders Shave Their Heads To Support Coach's Cancer Battle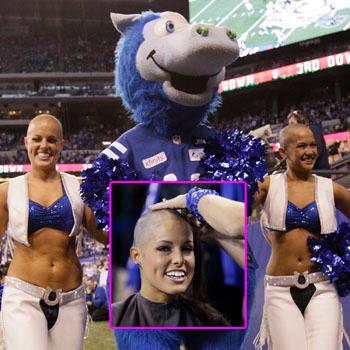 Article continues below advertisement
The drastic double haircut was prompted by their support of head coach Chuck Pagano, who was diagnosed with leukemia in September and is currently undergoing chemotherapy to battle the life-threatening disease.
The Indianapolis team mascot had challenged all of the Colts' cheerleaders to shave their heads if they could each raise $10,000 to fight leukemia.
Earlier this month, more than two dozen football players shaved their heads in support of the highly respected team leader, then the girls got in the game after Blue - the Colts' giant stuffed horse mascot – challenged that if he could raise $10,000 for leukemia research by November 25, Megan would get a buzz cut. Blue beat his own goal by raising $22,000, so teammate Crystal Ann joined her friend.
"I think we look really good," Megan told local news station WISH TV. "It's a lot lighter. It's going to be fun learning to dance like this.
"As professional cheerleaders, it's just a chance you don't get very often," added Megan. "I was just hoping that we were able to send a positive message to young people everywhere."
After overcoming leukemia herself as a three-year-old child, Crystal Ann didn't think twice before taking the plunge.
Article continues below advertisement
Miss America Hopeful Allyn Rose To Undergo Double Mastectomy
Brooke Burke-Charvet's Mom: She's 'Tired & Shaken' After Cancer Diagnosis
Kelly Osbourne Opens Up About Mom Sharon's Double Mastectomy, 'She Got Rid Of Her Fun Bags'