Football And Family Time! NFL Star Tom Brady Throws His Sons Around On The Field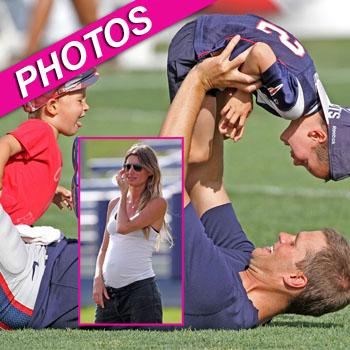 Article continues below advertisement
While blossoming Brazilian model Gisele revealed her growing baby bump in a white tank top, Tom went from throwing the football to his teammates to tackling and tossing his delighted sons in the air as he splayed out on the grass in the sun.
Wearing a mini replica of Brady's number 12 jersey, John – Brady's oldest son by ex-girlfriend Bridget Moynahan – looked like he is ready to follow in his famous father's footsteps on the football field when he's big enough.
Meanwhile, dressed in a newsboy cap and a retro tee-shirt emblazoned with the throw-back Boston Patriots logo from the 1960s, younger brother Ben proved he has inherited mom Gisele's laid-back style.
Determined not to leave his wife out of the action, Tom, who celebrated his 35th birthday on Friday, was caught giving her an affectionate kiss while he took a time out from playing rough with the boys.
Article continues below advertisement