'She Was Stoned Out Of Her Mind!' Complains Divorced Dad of 7-Year-Old Getting Legal Pot For Her Cancer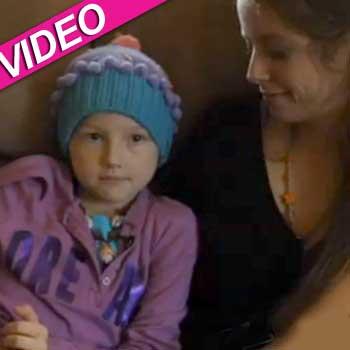 The divorced dad of seven-year-old Mykayla Comstock has gone to the cops complaining that his daughter is being kept "stoned out of her mind."
But little Mykayla -- who likes to call herself 'Brave Mykayla' -- is being given the marijuana legally, and the police told Jesse Comstock there was nothing they could do.
Mykayla is fighting an especially aggressive form of leukemia and is one of 52 children using legal medical pot in Oregon, reports The Oregonian.
Article continues below advertisement
The adorable little girl doesn't smoke joints to help relieve the nassau, vomiting, depression and sleep problems associated with her chemotherapy treatments.
Twice a day she swallows a capsule form of the drug. Some days, when she can't sleep or eat, she snacks on a gingersnap or brownie baked with marijuana-laced butter.
"It helps me eat and sleep"...and it "makes me feel funny, happy," she said. "The chemotherapy makes you feel like you want to stay up all night long."
Mykayla lives with her mother Erin Purchase, who has sole custody of the little girl, and Erin's boyfriend in Gladstone, Oregon near the hospital where she receives her chemotherapy.
"As a mother," Purchase told The Oregonian, "I am going to try anything before she can potentially fall on the other side."
But her ex-husband isn't buying it.
"She's not terminally ill," Jesse Comstock said of Mykayla. "She is going to get over this, and with all this pot, they are going to hinder her brain growth.
Article continues below advertisement