Robin Roberts Wears Mask To Doctor In NYC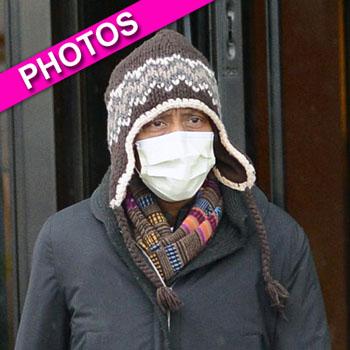 Clad in a surgical mask, Robin Roberts was seen leaving her Manhattan apartment headed to a doctor's appointment Tuesday, and we've got the photos for you right here on RadarOnline.com.
Robin, who turned 52 last week, wore a brown wool knit cap, a scarf, a heavy black jacket and jeans on the outing.
The brave broadcaster, who is battling a blood and bone marrow disorder MDS (Myelodysplastic Syndrome), is wearing the mask as a precaution to prevent contact with hazardous germs, as her immune system weakened as a result of the ailment.
Article continues below advertisement
Robin said in a televised chat with her sister Sally-Ann last week that she's excited to get to go to early bird specials, where the presence of less people means less risk of infection.
She told Sally-Ann, who was also her donor, that her recovery from a bone marrow transplant two months ago is "a journey that kind of zig zags, and there are complications, but I feel stronger every day."
A source told the NY Daily News that Robin's "condition continues to improve, and she hopes to be back on the air soon."