Taylor Armstrong's Drinking Forces Castmates To Intervene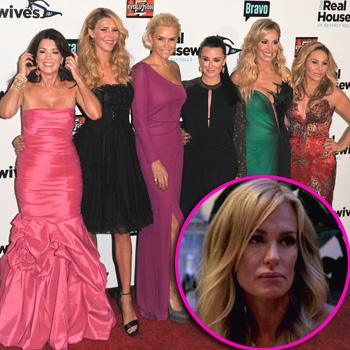 Taylor Armstrong's growing drinking problem comes to a head on this season of The Real Housewives of Beverly Hills, and we've got all the details for you right here on RadarOnline.com.
"Later this season, you'll see most of the women go to Ojai, California for what was supposed to be a relaxing spa weekend," a source tells Wetpaint. "Instead, it becomes an intervention about Taylor's drinking. They all think her drinking has grown out of control and they sit her down and give it to her."
Article continues below advertisement
The source told the website that cameras were rolling on the intervention, and "everyone in the cast just hopes it makes it to air, so Taylor's problem can finally be out in the open."
The source told the website that the taped intervention probably didn't do much good.
"I don't think Taylor's gotten healthier…I think she's just gotten a little smarter," the source said. "For the rest of the season, she tries to watch herself when the cameras are around -- but as soon as they're done filming, I've seen her start to drink more heavily again.
"When she's not filming, she does what she wants."
In a radio interview last month, Taylor slurred her words and projecting the appearance she'd had a few.
"The women are frustrated," says the insider. "They understand she's been through a lot, but they want Taylor to start taking responsibility for her health. Until she does, there's not much else they can do."
Taylor's destructive relationship with late husband Russell was closely chronicled last season, ending with Russell's suicide.