Exclusive
Cyber War! NeNe Leakes And Kim Zolciak Take Their Feud To Twitter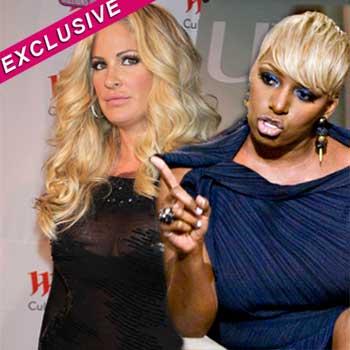 She may have left The Real Housewives of Atlanta but that doesn't mean the bitter feud between NeNe Leakes and Kim Zolciak has ended. The former friends took to Twitter this weekend to lob comments at each other, RadarOnline.com is exclusively reporting.
The recent round of catty remarks stem from Zolciak's decision to leave the reality TV series, walking off mid-season in an episode that airs on December 2. As RadarOnline.com previously reported, the mom-of-four explained why she left, saying "I was eight months pregnant and there was so much drama, I just had to walk."
Article continues below advertisement
But on Friday Leakes took to Twitter to dispute that account. NeNe wrote: "It's so funny how this chick wants people 2 think she quit the show! The producers no longer wanted 2 work wit sic u! Good bye wit the lies.
"None of the girls or producers wanted 2 work wit her! Saving face like all the other ex housewives! U were FIRED! Good bye."
Zolciak quickly took to her Twitter page to respond, saying: "I definitely was NOT fired from RHOA. I can guarantee u that!!!" She went on to say: "You are so mad u can't stand it & hold your anger in, u are suppose sic to have all this stuff going on but ur staying tuned into me #iloveit."
Zolciak also made reference to her new Bravo spin-off series, which debuts in the spring. She wrote: "My spinoff last year was a 1 time thing so this spinoff is brand new! Bye hater!!!!" She later added: "Makes no sense to get fired and get a promotion! #staytunedhater."
Kim and NeNe's feud was the topic of conversation when Leakes appeared on The View on Friday. Asked about Zolciak, the 44-year-old again accused her former friend of racism and said they "obviously" won't be reconciling.