Exclusive
Happy Holidays! Holmes' Family Thankful For Having The 'Old Katie' Back Once Again!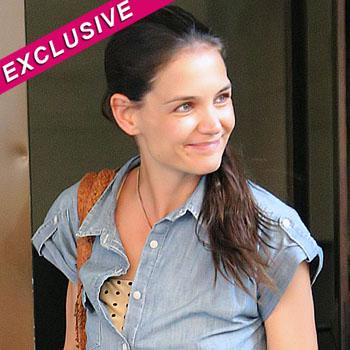 By Jon Boon - Radar Reporter
Katie Holmes' family has a lot to be thankful for this season -- front and foremost -- having the "old Katie" back among the fold once again, RadarOnline.com is exclusively reporting.
While daughter Suri joined dad Tom Cruise in London for Thanksgiving, Katie opted to spend the holidays in a more conventional way, and a family source says it was just like old times!
As RadarOnline previously reported, the 33-year-old actress broke off rehearsals for Broadway show Dead Accounts to visit her family in Ohio. She was welcomed by her beloved grandmother, who suffers from diabetes and dementia and despite her celebrity status, Katie was even subjected to some ribbing from her older siblings!
Article continues below advertisement
"It was a fleeting visit, but Katie knew the only place she wanted be during the holiday season was with her family in Toledo," the source told RadarOnline.com.
"Katie was desperate to see her grandmother Jackie, who she is very close to, and the rest of the family. And surrounding herself with her siblings, nephews and nieces seemed to make her very happy because she was smiling all day.
"Some family members made the point that it was like having the old Katie back. When she was married to Tom her visits were always short and less low key.
"This time, there were no security guards, and she got to spend more time with everybody.
"Katie's elder siblings couldn't help but notice the change and they teased her about it throughout the day," the source divulged.
Katie was spotted leaving New York's LaGuardia airport last Thursday morning, making the short trip to her parents' home for her first post-divorce Thanksgiving. She returned to New York later that night to prepare for work the next day.
Article continues below advertisement