Exclusive
Tom Cruise Video Chatting With Daughter Suri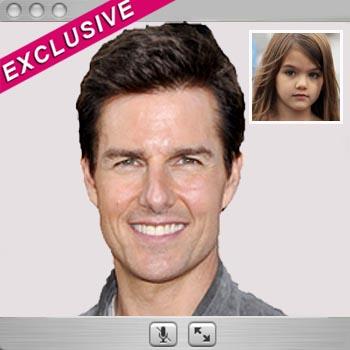 By Jen Heger - RadarOnline.com Assistant Managing Editor
Oh, the wonders of technology!
Tom Cruise has been video chatting with daughter Suri ever since Katie Holmes filed for divorce last month, RadarOnline.com is exclusively reporting.
As we previously reported, Cruise's famed attorney, Bert Fields, told RadarOnline.com that the actor would be seeing Suri soon.
"Tom will be seeing Suri very soon. I don't know exactly when that will be, and I couldn't tell you, but I do know it will be very soon. Tom loves his Suri very, very much, as he does his other two children. Tom is a family man and dedicated to his children. They are the center of his world," Fields said last week.
Article continues below advertisement
Until then, Cruise has been using technology to his advantage and has been video chatting with Suri.
"It's all part of the divorce settlement that Tom be allowed to video chat with Suri. Likewise, when Suri is with Tom, Katie can video chat with her," a source close to the situation tells RadarOnline.com.
"Tom and Katie were advised that this could be a very useful tool to help Suri with the adjustment of her parents getting divorced. Tom and Suri have been video chatting and Tom just lights up when her face appears on the computer screen. Tom and Suri also communicate on the telephone and there is no limit on the contact for either parent. If Suri wants to talk to Tom she will call him, with help of course," the says.
"The bulk of their divorce settlement deals with the custody agreement which is extremely detail oriented. Over 75% of the settlement documents deal with Suri and the custody agreement.
"There are provisions and clauses about which parent Suri will spend Thanksgiving, Christmas and her birthdays with. One of the most important clauses of the settlement is that NEITHER parent can talk negatively about the other in front of Suri and this includes anything about each parent's respective religion.
Article continues below advertisement