Exclusive
Tom Cruise's Lawyer: 'Sad And Shocked' Actor Will See Daughter Suri 'Very Soon'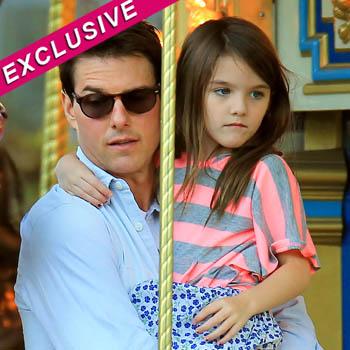 By Jen Heger - Radar Assistant Managing Editor
Tom Cruise's lawyer, Bert Fields, tells RadarOnline.com exclusively that the Mission Impossible star will see the couple's 6-year-old daughter, Suri, "very soon," and is "still tremendously saddened and shocked about the divorce."
Katie Holmes will have sole custody of Suri, with Cruise having substantial visitation time with the adorable little girl. Cruise hasn't seen Suri since Katie filed for divorce, but the actor's long-time famed attorney tells us, "Tom will be seeing Suri very soon, I don't know exactly when that will be, and I couldn't tell you, but I do know it will be very soon. Tom loves his Suri very, very much, as he does his other two children. Tom is a family man, and dedicated to his children. They are the center of his world."
Article continues below advertisement
Even though the divorce settlement is finalized, Cruise is "still tremendously saddened and shocked about the divorce. Tom is obviously relieved that the settlement was reached, but is still sad, obviously," Fields told us.
As we previously reported, Cruise was snapped at June Lakes in California's Sierra Nevada mountains Wednesday shooting his upcoming film, Oblivion. The actor, who recently turned 50, wore a plaid shirt and grey pants, maintaining his professional focus less than two weeks after estranged wife Holmes blindsided him by filing papers to end their five-year marriage on June 28. At the time, Cruise was in Iceland working on Oblivion; he reportedly received a phone call from Holmes -- informing him of her intent to divorce him -- while he was shooting a stunt scene.
Tom and Katie said in a joint statement Monday that they're "committed to working together as parents to accomplishing what is in our daughter Suri's best interests.
"We want to keep matters affecting our family private and express our respect for each other's commitment to each of our respective beliefs and support each other's roles as parents," they said.
Tom has a history of quick and efficient splits, finalizing things in his divorce with Mimi Rogers in less than 45 days, while his divorce from Nicole Kidman was done in less than six months.