Tom Cruise's Security Team Put Duct Tape On Hotel Cameras While Katie Holmes Was In Iceland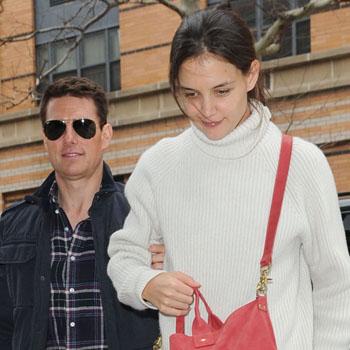 Article continues below advertisement
Upon their arrival, they immediately checked into the $1,000-a-night Presidential Suite of the Hilton Nordica hotel.
"The suite has a sweeping view of the bay," a hotel insider told the National Enquirer. "It's the best hotel room in all of Iceland."
The insider exclusively revealed that Tom's security team put black duct tape over all of the security cameras located in the ceilings on the 9th floor corridor where their suite, room 926, was.
A National Enquirer reporter who visited the suite in the days following the divorce announcement found the duct tape still attached to a video camera outside the room.
Although the hotel insider says the cameras were covered because Tom didn't want any videos of him and Katie leaked, a friend believes that the actor may have been trying to cover up their sleeping arrangements.
"Neither Tom nor Katie let on that they were having problems. It would have been a red flag if Katie had requested her own room," said the friend.
Article continues below advertisement