Exclusive
Lawyer Wants Judge To Order Eva Longoria To Appear For Deposition & Impose 'Stiff Sanctions'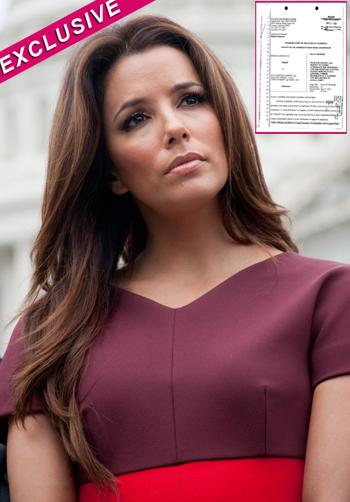 By Jen Heger - RadarOnline.com Assistant Managing Editor
The lawyer representing a man suing Desperate Housewives star, Eva Longoria, for allegedly striking his car in a 2010 car accident, is asking the judge to impose stiff monetary sanctions and order Longoria to sit for a deposition because she has repeatedly failed to appear for the legal proceedings, RadarOnline.com is exclusively reporting.
As previously reported, Longoria got in the car accident in October 2010 on Hollywood Blvd while she was driving a BMW X5, but according to cops she wasn't at fault. Roman Gasparyan filed the lawsuit for negligence days after the accident and claims that Longoria swerved suddenly, lost control of her SUV and hit his car. Gasparyan asserts that he was hospitalized because of the accident and had to undergo numerous physical examinations and medical treatments because of his alleged injuries.
Article continues below advertisement
DOCUMENTS: Roman Gasparyan Files Lawsuit Asking To Have Eva Longoria Deposed
Gasparyan's lawyer, Sanjay Sobti, filed legal docs asking a judge to order Longoria to sit for a deposition because she hasn't complied in the past.
According to the documents: "On March 15, 2012, Eva Longoria notified me that she was still too busy to attend a deposition and proposed that in lieu of an in person deposition that we schedule a telephonic deposition, a deposition via Skype or that the deposition be located at her attorney's office in Beverly HIlls. I rejected Longoria's proposal as a telephonic or Skype deposition are not acceptable substitutes for an in person deposition and the location that I have attempted to schedule for the deposition is well within the 75 mile limitation provided for in the Civil Code of Procedure."
Sobti is asking for $7,750 in sanctions to be imposed against Longoria and paid to him because of the legal wrangling required to get the ex-Mrs. Tony Parker deposed. Sobti also wants an order that Longoria appear for the deposition at his office in Corona, California.
A hearing on the requests has been set for May 21.
RELATED STORIES:
Tareq Salahi Suing Journey & His Wife, AGAIN!
Adrienne Maloof's Former Employee Suing For Failure To Pay Overtime
Jennifer Lopez's Former Driver Suing Her For Fraud!