Exclusive
EXCLUSIVE: Eva Longoria Divorce Scandal Widens, NBA Legend Furious Over Erroneous Report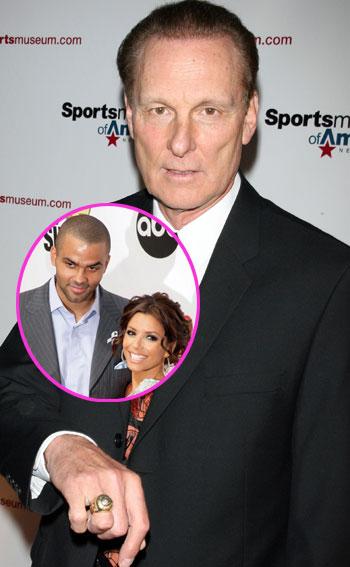 As more details regarding the breakdown of Eva Longoria and Tony Parker's marriage come to light, Rick Barry- the NBA legend and father of Parker's San Antonio Spurs teammate whose wife he was texting with- is furious over a report containing alleged comments he made regarding the sordid situation.
"I'm upset with that website for quoting me with comments I never made," Rick, the father of Brent Barry, told RadarOnline.com exclusively. "I never told them anything regarding my son. That site is such bullsh-t I've now got to call Brent and tell him that they're spreading lies."
Article continues below advertisement
Late Thursday night, a website quoted Rick saying how "horrible" he felt about his son's breakup with his wife Erin- the woman that Parker traded text messages with. While some reports have said the texts between Tony and Erin were "innocent," that's absolutely not true, RadarOnline.com learned. The texts were flirtatious and sexual and "crossed the line," a source close to the situation revealed.
"I knew Erin was moving out of the house soon and SHE was the one that filed for divorce. This is the straw that broke the camel's back. Brent is going to be devastated. I can't even imagine him going through this ... the divorce was hard enough news," the site claimed Rick said.
In fact, as RadarOnline.com reported, Brent filed for divorce from Erin in Texas on October 29.
On Thursday, Rick gave RadarOnline.com his real comments on the situation: "What I will tell you is that I don't know anything about my son's marriage. It's not my business to talk about my sons personal life. I love my son and will support him at every turn."
"The people that are most affected by this are my two grandsons," Rick added. "Eva and Tony don't have any children but my son and Erin do. My two grandsons are most affected by this."