Exclusive
EXCLUSIVE: Eva Longoria's Revenge; How She Got Back At Tony Parker For Cheating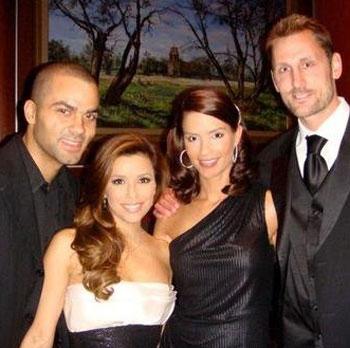 Eva Longoria didn't just file for divorce against Tony Parker, she made sure to get revenge for his sexting relationship with another woman.
Longoria was devastated and furious when she discovered that her husband had been trading sexual texts with Erin Barry, the wife of his former San Antonio Spurs teammate Brent Barry. The Barrys and Eva and Tony were couple friends at one point, making the betrayal sting worse for Longoria, a source close to the situation told RadarOnline.com.
Article continues below advertisement
When Desperate Housewives star Eva discovered the relationship and the texts her marriage blew up and she and Tony agreed to divorce. "But Eva was hurt and she wanted a little revenge," the source revealed. "So she blindsided Tony with the divorce filing.
"They were working out the details about who was going to file and when. They didn't want it to become a messy divorce. Then Eva got a little revenge and didn't tell Tony she was filing and dropped the papers on him, catching him off balance for the media blitz."
While some reports have said the texts between Tony and Erin were "innocent" that's absolutely not true, RadarOnline.com learned. The texts were flirtatious and sexual and "crossed the line," a source close to the situation revealed.
Erin's marriage to Brent is over, the source says, and while she and Parker traded sexual texts Parker insists their relationship never became physical. "Look, any wife is going to be upset with what Tony did, but he swears the relationship with Erin stopped there and they never had sex," the source told RadarOnline.com.
MORE ON:
Desperate Housewives
Article continues below advertisement
"And Parker also says the text messages ended months ago."
Even so, Eva and Tony agreed many weeks ago to divorce. "They were discussing how to proceed for a while," the source said. "Suddenly, Eva not only filed the papers but then went public with Tony's relationship with Erin. He was surprised, to say the least."
When one website mistakenly published that Tony filed divorce papers in Texas it was not simply a glaring error. Tony, in fact, had planned to file divorce papers in Texas, but then the plan changed.
"He held off," the source said. "It had been discussed but then abandoned. Next thing he knew she surprised him by filing on Wednesday.
"Eva is furious that Tony started a relationship with a woman she knew, a woman they went out with as couple friends. She felt betrayed by Tony and this is how she got a small measure of revenge."
Tony and Eva have a prenuptial agreement and the source says despite everything that has happened they are still talking. "Ultimately, they had a long-distance relationship and they hardly ever saw each other," the source said. "It just wasn't going to work."