Jennifer Aniston Fears Mom Is In The 'Early Stages Of Alzheimer's' According To Report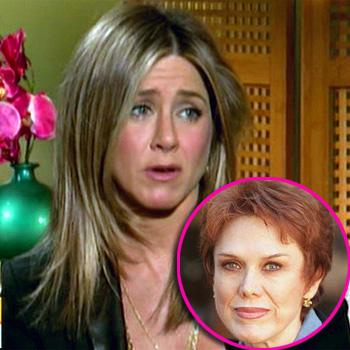 Jennifer Aniston is concerned her mother is experiencing the early signs of a deadly disease, according to a new report in the National Enquirer.
The Friends star is reportedly heartbroken that her mom, 76-year-old Nancy Dow, who fractured her shoulder after a tumble on Election Day, is becoming increasingly confused and unsure of her surroundings and may be experiencing dementia.
A close family friend told the Enquirer of Aniston's fears, saying: "It's heartbreaking. Her mom's deterioration has been shocking, and Jen just wants to see her well again.
Article continues below advertisement
"Jennifer can't bear to think of her mother having such a terrible, incurable disease."
The mother and daughter have had a notoriously rocky relationship and didn't speak to each other for years. The rancor between the two was so bad the 43-year-old didn't even invite her mom to her 2000 wedding to Brad Pitt.
However, Aniston and Dow have since reconciled, and now the actress is said to be worried about her mom, who is still suffering from the effects of a 2011 stroke that left her partially debilitated on her left side.
Friends say that after falling over on her way to vote on November 6, Dow fell again at home. She was then admitted to the Burbank Rehabilitation Center, where she was diagnosed with a hairline shoulder fracture.
According to insiders Dow is now also suffering memory lapses. The source tells the Enquirer: "The doctors are doing more tests and there's also a very real concern she may be in the early stages of Alzheimer's.
MORE ON:
National Enquirer
Article continues below advertisement
"She slips into periods of confusion, at times doesn't recognize people and her short-term memory appears to be damaged. It's sad. It's tough for the whole family."
While her mom recovers Aniston is currently renovating the $21 million mansion that she bought and plans to live in with fiance Justin Theroux.
For the full story pick up the new issue of the National Enquirer -- on newsstands Thursday.
RELATED STORIES: