Jennifer Aniston And Justin Theroux Renovate Their Sprawling Mansion Ahead Of Wedding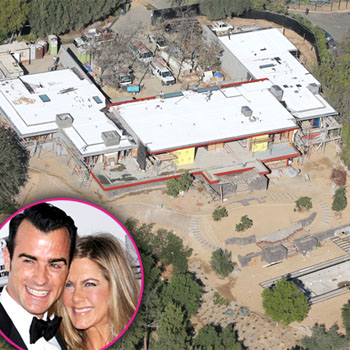 Article continues below advertisement
But, according to the Mail Online, the actress has ordered extensive changes including ripping out the on-site vineyard and replacing it with a Jacuzzi and a pool.
Meanwhile Aniston has been spotted perusing posh Los Angeles furniture stores looking for the perfect pieces for her new home.
Construction on the property, which sits on the Santa Monica Mountains and overlooks the Pacific Ocean, is not expected to finish until 2013. In the meantime Aniston and Theroux have been spending a whopping $40,000 a month to rent a five-bedroom, six-and-a-half bathroom home in Beverly Hills.
Whether or not the couple will be married by the time their Bel Air mansion is complete is unknown. But it is clear the Wanderlust co-stars are happy with their life together. The lovebirds were all smiles when they attended the 26th American Cinematheque Award Gala in Beverly Hills last week.
And while she has snagged a hunky fiance and a fancy house, Aniston says she doesn't need a baby to make her life complete.
Article continues below advertisement
She told the Spanish edition of GQ earlier this year: "A perfect life? I think that's sort of cliche, isn't it?
"Like, if you want to be happy you should have the house, the husband, the kid… Kids are messy!"
RELATED STORIES:
Jennifer Aniston & Justin Theroux: So In Love At Beverly Hills Gala
Major Cleavage Alert! Jennifer Aniston Almost Bares It All In Revealing Dress
Now THAT'S What You Call A Token Of Love! Jennifer Aniston Flashes Her HUGE Engagement Ring