Glen Campbell Breaks Silence On Battling Alzheimer's: 'I Have Been Blessed'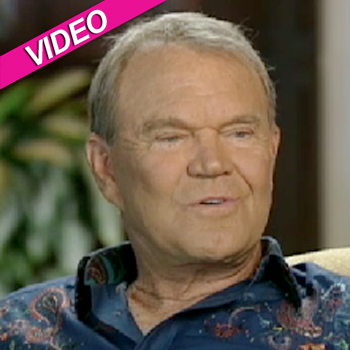 Rhinestone Cowboy -- Southern Nights -- his 1981 scandalous relationship with a then young country singer named Tanya Tucker.
If you're of a certain age --- you know who Glen Campbell is.
The legendary country singer/songwriter granted ABC's Nightline his first TV interview since revealing in June that he is battling Alzheimer's disease.
Article continues below advertisement
"I have been blessed," the singer/songwriter told ABC's Terry Moran in the extraordinary interview, which aired Tuesday night. "I really have. I figured it out that I'm not that bright, but God gave me a break."
During the interview, Campbell appeared in good spirits, despite losing his train of thought at times.
The multi-Grammy Award winning star told Moran he hasn't "felt it yet," referring to the degenerative disease.
Jason Derulo And Tika Sumpter Out On A Date
"I've always been forgetful anyway. I'm only what — 78?" His wife of almost 30-years -- Kim Wollen quickly corrected him: "75."
"Oh, so I've got a couple more," Campbell joked.
Kim sat at her husband's side during the interview and helped him find his words. Speaking of their courtship, Campbell said: "Did you find me or I find you?" he asked his wife. "I think we found each other," she said.
Article continues below advertisement
Gavin DeGraw On Vicious Attack: 'I Don't Remember Much'
Campbell will release his final album, Ghost on the Canvas, at the end of August and plans to go on a farewell tour; his first stop will be in Toronto.
During his 50 years in show business, Campbell has released more than 70 albums. He's sold 45 million records and racked up 12 RIAA Gold albums, 4 Platinum albums and 1 Double-Platinum album.
A staggering 27 of his songs landed in the Top 10 of the country charts. In addition to Rhinestone Cowboy and Southern Nights, Campbell's hits include Gentle on My Mind, By the Time I Get to Phoenix, Wichita Lineman, and Galveston.
Adam Levine & Christina Aguilera Release Music Video For Moves Like Jagger
Campbell made history by winning four Grammys in both country and pop categories in 1967. For Gentle on My Mind, he received two awards in country & western; By the Time I Get to Phoenix did the same in pop.
He owns trophies for Male Vocalist of the Year from both the Country Music Association (CMA) and the Academy of Country Music (ACM), and took the CMA's top honor as 1968 Entertainer of the Year. In 1969 Campbell was hand picked by legendary actor John Wayne to star alongside him in the film True Grit, which gave Campbell a Golden Globe nomination for Most Promising Newcomer. Campbell sang the title song which was nominated for an Academy Award.
Demi Lovato Jumps Back Into The Spotlight
In 2005, Campbell was inducted into the Country Music Hall of Fame.
Campbell has been married four times and is the father of eight children -- five sons and three daughters.