Demi Lovato Jumps Back Into The Spotlight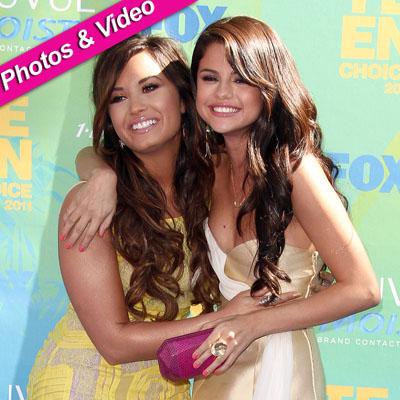 Demi Lovato is jumping back into the public spotlight in a big way.
The Skyscraper singer, 18, walked the "blue" carpet at the 2011 Teen Choice Awards Sunday night at Universal City, and at one point, she posed with her pal Selena Gomez.
2011 Teen Choice Awards Complete List of Winners
Lovato later appeared on stage to accept the Acuvue Inspire Award for her courageous decision to pull out of a concert tour last year to enter rehab for abuse issues.
Article continues below advertisement
In accepting the award presented to her by Charice and Teen Wolf actor Tyler Posey, Lovato told the audience: "I couldn't have made it through the incredible journey that I went through without your help and your strength that got me through it... You guys are what got me through this last year. I love you so much. Love is louder. I love you guys so much. Thank you for much."
Lovato also received a Choice award for Song of the Summer for her new single Skyscraper.
Although she didn't perform at the Teen Choice Awards, she will sing Skyscraper live for the first time at the 2011 Do Something Awards, which will air on VH1 on August 18.
Lovato will celebrate her 19th birthday on August 20.