High School Bully Confesses To Driving A School Girl To Suicide, 'I Have Nightmares About What I Did'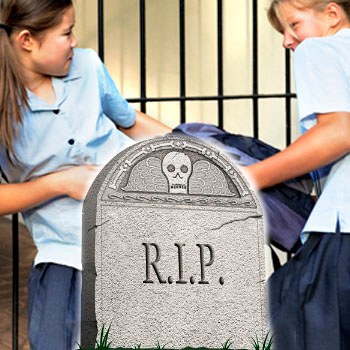 By Debbie Emery - RadarOnline.com Reporter
An anonymous letter from a former bully who is tortured with guilt from driving a school girl to kill herself brings home the devastating effects of high school hazing.
"I have nightmares about what I did to her — it's like reverse PTSD where I remember the awful things I've done to others," revealed the troubled tormenter in an email that was sent to writer Emily Yoffe, aka Dear Prudence, who has a column on Slate.com and the Washington Post.
Article continues below advertisement
"I was a bully in school. I'm not going to justify my behavior in any way. There are no words to describe how monstrous I was. There was one particular kid, 'Gina,' whom I bullied mercilessly," the correspondence revealed.
"If I inflicted half as much physical assault in my adulthood as I did to her as a teen, I would be locked up for a very long time."
The mean girl or guy went on to explain that after becoming a parent themselves and watching their daughter get picked on in school, they wanted to make amends and apologize for their actions so contacted victims through social media.
"Almost everybody I managed to contact responded with forgiveness. But when I tried to get in touch with Gina, I discovered that she committed suicide in high school. I have very good reasons to believe that she switched schools because of me.
"I am torn up with guilt and haunted by my past actions," wrote the bully, who asked Dear Prudence whether to contact Gina's mother via email and risk facing legal consequences.
Article continues below advertisement
Yoffe commended the writer for recognizing the horror of their actions… "Then there is Gina — my heart broke when I read of this girl's death by her own hand."
However, she advised them not to tell the girl's mother. "This poor woman doesn't need to hear your voice, stories of what you did, or have to grapple with the question of forgiving you," she wrote and instead suggested getting counseling to cope with their own guilt and volunteer with an anti-bully group.