Gennifer Flowers Claims Bill Clinton Tried To Hook Up With Her Again In '05, Fifteen Years AFTER Affair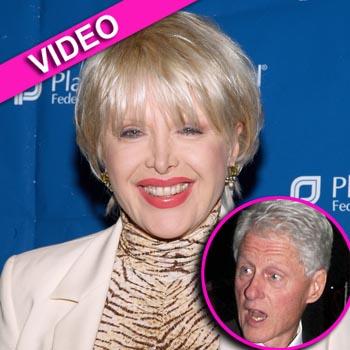 Even the stink of scandal couldn't keep Bill Clinton from the sweet scent of flowers … Gennifer Flowers!
The ex-president's one-time mistress, now 62, told Louisiana's WGNO-TV that the former president called her out of the blue seven years ago while he was in the area.
"I picked up the phone and it was him and he wanted to come by my house and talk to me," said Flowers, who'd just finished a divorce at the time. "I was taken aback; that was the last thing I expected.
Article continues below advertisement
"I said, 'No you can't come over here.' He said, 'I'll put on a hoodie and I'll jog up there,' and I said, 'No, I want you to leave me alone.' And that was that."
In the chat, Flowers took credit for putting Clinton on the map by going public with the scandal in January 1992, 10 months before he defeated George H.W. Bush for the country's highest office.
"I made him a household name over night," she told WGNO. "We had had that discussion. He said, 'My problem right now is that no one knows who I am. I need that name recognition.