Bill Clinton Made Racist Remark About Barack Obama, Claims Author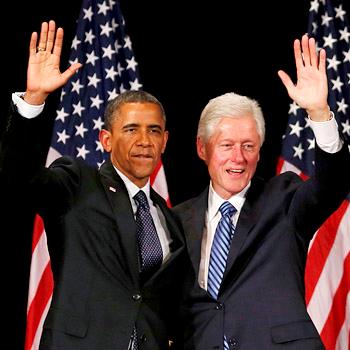 Did Bill Clinton take a racist jab at then-candidate Barack Obama in 2008? That the shocking claim being made in a lengthy New Yorker magazine look at the relationship between the two men.
Author Ryan Lizza writes that the late NBC newsman Tim Russert told him he'd heard from several sources that in an effort to secure Ted Kennedy's endorsement for his wife Hillary during the 2008 campaign, Clinton said to the Massachusetts Senator, "A few years ago, this guy would have been carrying our bags."
Article continues below advertisement
Kennedy, who died in 2009, didn't buy the argument though. He endorsed Obama over Hillary.
Clinton's role in the campaign rattled Obama, Kuzza asserts. He told ABC News at the time that Clinton "has taken his advocacy on behalf of his wife to a level that I think is pretty troubling."
The two men have never really liked each other, Lizza writes, but a reconciliation has been in the works for months.
Clinton will not be giving one of the most important speeches at the Democratic National Convention. On Wednesday night, he'll be giving what is anticipated to be a stirring endorsement for the reelection of President Barack Obama.