Chelsea Clinton Addresses Marriage Woes, Babies And Going Into Politics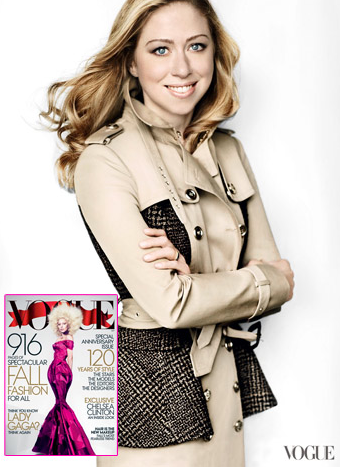 By Alexis Tereszcuk - Radar Entertainment Editor
Chelsea Clinton has been very carefully edging out into the public eye and in a new interview she admits that her mother wants her to have babies and that she might even consider a political career.
The 32-year-old daughter of Hillary and Bill Clinton opened up to Vogue magazine where she said that she gets immense pressure from her mom to have children.
Article continues below advertisement
"She always tells me it was the greatest thing that ever happened to her," Chelsea says about Hillary and she even makes jokes about her mother wanting grandchildren in speeches.
"And as the subject of such an amazing compliment, I can't do anything but be grateful and smile and say that I will be the same way when I am so blessed. It's certainly something that Marc and I talk a lot about. I always knew I was the center of my parents' lives when I was growing up. And I am determined that our children feel the same way."
Chelsea says that she and her husband, Marc Mezvinsky, do plan to have children eventually.
"Marc and I are both working hard right now, but I think in a couple of years, hopefully…literally, God Willing. And I hope my mom can wait that long."
Marc spoke about their marriage, which was reportedly on the rocks when he left New York to go skiing after leaving his job.
"She is the yin to my yang," he said.
Article continues below advertisement
Chelsea has been famously private with her life, but lately is opening up and is even discussing the idea of running for office herself one day.
"Historically, I deliberately tried to lead a private life in the public eye. And now I'm trying to lead a purposefully public life."
She said Hilary's run for President in 2008 changed her mind.
"Before my mom's campaign I would have said no. Not because it was something I had thought a lot about but because people have been asking me that my whole life."
Chelsea said her mom going into public life raised her awareness.
"Her life is a testament to the principle that there are many ways to serve. And now I don't know….I mean, I have voted in every election that I have been qualified to vote in since I turned 18.
"So if there were to be a point where it was something I felt called to do and I didn't' think there was someone who was sufficiently committed to building a healthier, more just, more equitable, more productive world? Then that would be a question I'd have to ask and answer."