Steve Jobs Biography: Bill Clinton Asked Apple Founder For Advice On Monica Lewinsky Scandal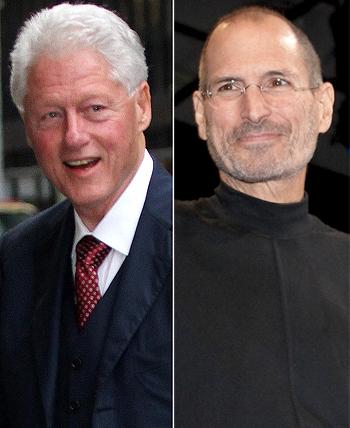 In advance of the release of Steve Jobs' authorized biography, author Walter Isaacson is revealing some fascinating tidbits about the late Apple founder.
According to the acclaimed biographer who interviewed Jobs numerous times over the last two years before his death, President Bill Clinton consulted Jobs on how to handle the 1998 Monica Lewinsky scandal.
The President was accused of having a White House fling with the then-intern, something he vehemently denied for months.
Article continues below advertisement
Jobs revealed to Isaacson that during a "late-night phone conversation" between he and the President, Clinton asked for advice on how to deal with the scandal.
"I don't know if you did it, but if so, you've got to tell the country," Jobs said he told Clinton.
And how did Clinton respond? "There was silence on the other end of the line," Jobs says in the book.
Jobs also confessed to being star-struck when he met Bob Dylan. Mick Jagger he thought was either "on drugs or brain-damaged" when they met, he said.