Menacing E-Mails Allegedly From David Petraeus's Ex-Mistress Threaten Rival, 'I Can Make You Disappear'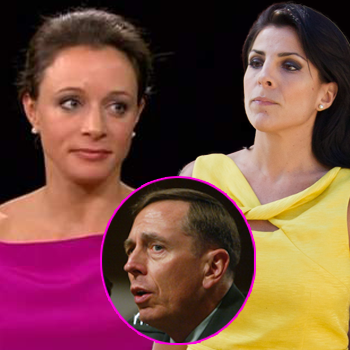 Article continues below advertisement
"This wasn't just a catfight. Any normal person who got e-mails like that would have immediately called the police," said the insider.
As RadarOnline.com previously reported, the FBI has been investigating e-mails that Broadwell sent to Kelley. The agency tracked the e-mails back to Broadwell, and then stumbled into thousands of messages sent between her and Petraeus. Some of those messages were sexually explicit, including one now famous message that referenced "sex under the desk."
The raunchy string of correspondence ultimately led to the married 60-year-old CIA director's downfall, and he resigned earlier this month after admitting that he "showed extremely poor judgment by engaging in an extramarital affair."
Kelley's friend said that she read the e-mails after Jill called her panic-stricken in the days leading up to the sex scandal becoming public knowledge, claiming that she believed they were death threats.
Article continues below advertisement
In other messages, the West Point graduate boasted about her military background and her powerful friends.
"This wasn't a case of cyber-bullying. Kelley was scared for her life. She had reason to be. These e-mails are the real thing. When she read them to me, I literally had the shivers," said the friend, who believes that Broadwell has "serious mental problems. She needs to be behind bars before she hurts someone."
The Petraeus scandal grew with the news that Kelley exchanged thousands of pages of flirtatious e-mails with Gen. John Allen, Petraeus' successor in Afghanistan, officials said. Now, amid a Pentagon probe of Allen's conduct, his nomination to be NATO's supreme allied commander in Europe has been put on hold.
However, her friend is adamant that there was no illicit relations between the married pair. "She is fiercely dedicated to her family."
Article continues below advertisement
Petraeus Mistress Paula Broadwell Makes Show Of Unity With Husband Scott
Jill Kelley Calls David Petraeus Mistress Paula Broadwell A 'Criminal' And 'Stalker'