VIDEO: Huma Abedlin 'Saddened, But Committed' To Anthony Weiner Amid Sexting Scandal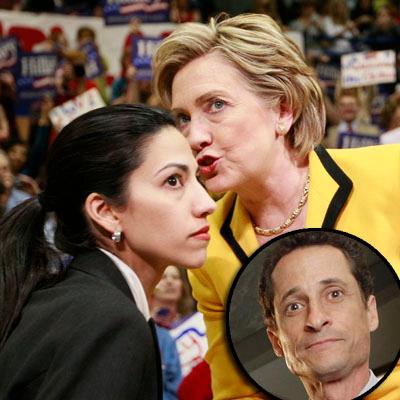 New York Rep. Anthony Weiner's wife Huma Abedin is telling friends she's "saddened" by her husband's actions, but remains "committed" to her marriage, and has turned for advice to a woman who endured her own embarrassing sex scandal -- former First Lady Hillary Clinton.
Weiner, according to Good Morning America, had come clean with Abedin prior to tying the knot last July, about his fetish for sexting with strangers, though he'd declared those days were behind him.
Article continues below advertisement
On Wednesday, the beautiful and successful 34-year-old was traveling to the Middle East and Africa with her mentor and employer of 15 years, Secretary of State Hillary Rodham Clinton.
The former presidential candidate -- having been through her fair share of sex scandals in the 90s as the First Lady to then-President Bill Clinton -- counseled Abedin on how to deal with the drama on Monday, according to the Wall Street Journal.
Watch the video on RadarOnline.com
The beauty, who is Muslim, is very close with the family: Bill officiated over her July 2010 wedding to Weiner in Long Island, where the former commander-in-chief said Abedin was like a daughter to him.
Abedin was notably absent during Weiner's emotional news conference on Monday, but watched the event on TV in New York, according to the GMA report.
"We have no intention of splitting over this," Weiner, 46, said of his wife of 11 months in the news conference. "We will weather this ... I love her, she loves me."