Hoarder From Hell: Las Vegas Man's Unbelievably Disgusting Abode!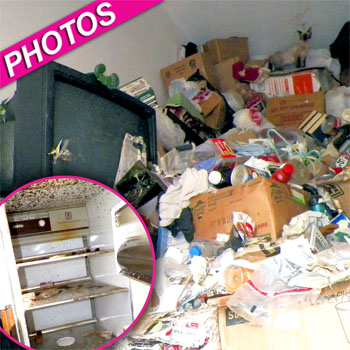 Is this the worst hoarder in the world?
Las Vegas homeowner Kenneth Epstein, 55, kept five refrigerators filled with rotting food, while five dead cats were found in the surrounding mess, and RadarOnline.com has the shocking photos.
The situation was so awful, local officials had to get a court-signed abatement warrant to begin hauling away items from the property and declare it uninhabitable last Friday.
Article continues below advertisement
According to City of Las Vegas spokesman David Riggleman, Epstein had fashioned a pathway for himself to climb over all the materials, but wouldn't have been able to walk upright in the house inside the Sun City Summerlin Retirement Home.
It was building code officials second attempt to enter the property in a week – their first failed when they couldn't even open the front door. In fact, the front door had to be taken off its hinges by men, dressed in protective suits and wearing procedure masks, in an attempt to clean up the debris.
Unable to part with his items, Epstein locked himself in the house when workers tried to force their way inside.
During the clean-up operation, that continued into Sunday, 15 truckloads of materials were removed from the property.
Nine cats living in the squalor were captured by animal control officers – as authorities stated it's the worst case of hoarding they have ever seen.
"It's a very tragic situation, but it's also tragic for the neighbors," Councilman Stavros Anthony said.
Article continues below advertisement
"You can write whatever you like about me," Epstein told the Las Vegas Review-Journal but refused to discuss his disorder.
Anything that Epstein wants to hold onto will be put in two storage bins and fumigated. However, he has been told to pay for the clean-up – otherwise, the city will file a lien against the property making it impossible for him to sell the home until the debt is paid.
Since 2007, Epstein has received several citations from the city for his hoarding. Neighbors alerted officials when materials began to pile up in his front courtyard and back patio.