It's Now Or Never! Elvis Impersonator Gets Help For Hoarding Filthy Rock And Roll Memorabilia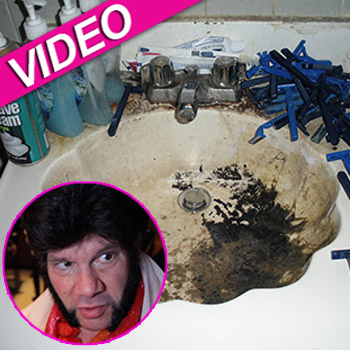 To say that Elvis Presley impersonator Cary has a serious problem letting go of things is putting it mildly – in fact his run down New York apartment, featured on the new season of TLC's Hoarding: Buried Alive, is one of the worst cases ever seen and RadarOnline.com has the shocking video from inside his packed and decrepid pad.
Although the 51-year-old looks a little more Wolverine than King of Rock and Roll with his large sideburns and black wig, he pulls on his jumpsuit and hits the stage feeling invincible with little sign to outsiders that every single inch of his home is covered with newspaper clippings, rotting food, dirt and grime, and a bathtub that should be condemned to the scrap yard because of the vile build up encasing it.
Article continues below advertisement
Cary's compulsive hoarding of Elvis memorabilia has rendered his living space virtually uninhabitable with the filth that has built up over the past decade.
His friends Joe and Francesca didn't want to be cruel but enlisted the help of professional organizer Leslie Josel to get him the help he desperately needs but Cary fights them saying that he's "not ready" to get rid of his stuff that has helped him cope with his mother's death.
Psychologist Dr. Rebecca Beaton, who treated Cary, exclusively tells RadarOnline.com that his issues are multiplied because he is "on the autism spectrum."
"He needed medication to treat his disorder. When I first met him I knew I had the potential to help him but I was worried that his friends would have too much influence over him and that he wouldn't get better," Beaton told RadarOnline.com.
"They were threatening him that they wouldn't be his friend if he didn't clean things up but they didn't understand that he has a mental illness. He had major depression.
Article continues below advertisement
"Cary had so many attachment issues. His mother loved Elvis and he loved getting dressed up like Elvis when he was little because it made her happy. He was very suggestible and he got a lot of attention from his mother when he was dressed like Elvis."
Ironically, the only clean thing in the apartment appears to be his white stage costume, that hangs in a dry cleaners bag and he dons to swing his hips to Love Me Tender.
"Cary finally realized that we had the best intentions and he came around and trusted us," Beaton added. "He got on the medication he needed and was able to think more clearly. We supported his feelings and he became willing to work with us."
Hoarding: Buried Alive airs Sunday July 8 9/8c on TLC.
radar_embed service=5min.com src=" http://pshared.5min.com/Scripts/PlayerSeed.js?sid=1126&width=486&height=412&playList=517708388&sequential=1&shuffle=0"