Courtney Love: Daughter's Explosive Never-Before-Seen Deposition Revealed; Drugs, Hoarding & Dead Animals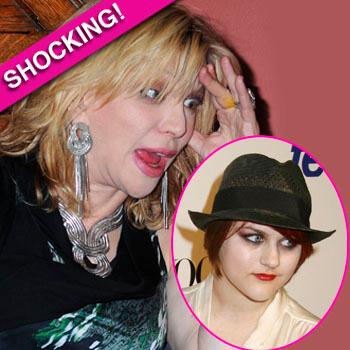 By Amber Goodhand - Radar Reporter
Courtney Love's daughter was granted a restraining order in 2009 and now Frances Bean Cobain's previously sealed deposition papers have been discovered, revealing explosive allegations of drug use, hoarding and the death of family pets.
In a sworn statement to the court — obtained by The Fix — dated December 10, 2009, Frances rattles off the list of prescription drugs her mother is on, recalls a crazy night at her mother's ex-boyfriend's house and claims her mother's hoarding caused the death of both their family cat and dog.
Article continues below advertisement
"Love has taken drugs for as long as I can remember. She basically exists now on...Xanax, Adderall, Sonata and Abilify, sugar and cigarettes," Francis said of her mother.
"She rarely eats... She often falls asleep in her bed while she is smoking, and I am constantly worried that she will start a fire (which she has done at least three times) that will threaten our lives."
Francis, now 19-year-old, said that Courtney dragged her to James Barber's house when she was 17 and she sat in the cab while her mother behaved like a crazy person.
"She took me in a taxi to his house in the middle of the night, and from outside the house, in her bare feet, she screamed at him, threw rocks at the house, and threatened to burn his house down," Francis said in the court documents. "His children were inside the house, but that did not stop my mother."
Francis, who's famous father is the late Kurt Cobain, claims her mother even threatened to jump off a balcony while she was watching.
Article continues below advertisement
But perhaps her most disturbing claim is that her mother's incessant hoarding and pill use killed their family pets — saying their cat died when it got tangled in piles of trash, fabrics and boxes of paperwork, while their dog died after swallowing Courtney's pills.
As a result, Francis' beloved dog, Uncle Fester, is also listed in the restraining order of those that Courtney must stay away from.
Courtney opened up candidly to The Fix about her struggle to stay sober, the cost of fame and her relationship with Francis in her new e-book, Courtney Comes Clean, and you can find excerpts here.