Courtney Love Stumbles Out Of Hollywood Party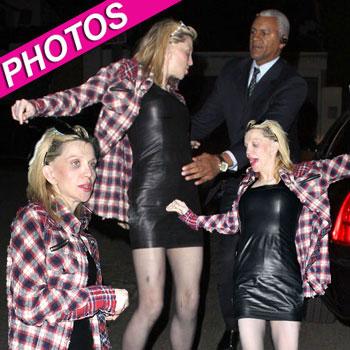 Courtney Love nearly ate the pavement Friday night as she stumbled out of a Hollywood event.
The 47-year-old looked worse for wear as she left the W party at the Chateau Marmont but luckily had the aid of her driver and another man who caught her before she fell. She then buried her face in the driver's chest as the men half-carried her to her car.
It is unclear what look Courtney was shooting for from a style point of view, but it really doesn't matter because it was a total fashion miss.
Article continues below advertisement
The Hole frontwoman wore a Lumberjack meets Lolita combo that was unflattering but also bizarre, as has been many of her outfit choices.
Courtney poured herself into a tight black leather mini dress and then covered it up with a large red and blue check shirt. Her make-up was overdone and she also appeared to have bruises on her legs.
As RadarOnline.com previously reported, Courtney turned up to the Young Adult premiere in NYC last month looking a white hot mess.