Courtney Love Gets Her Crazy On In Ireland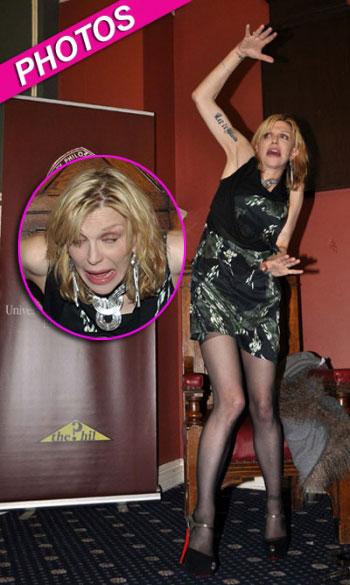 Courtney Love took her crazy act to Europe Tuesday, as the Hole front woman accepted an honorary patronage by an Irish university.
In true Courtney style she left the audience bemused and confused when she took to the stage with a whole plethora of funny faces and gesticulations, and RadarOnline.com has the wacky photos.
The singer was awarded with the Trinity College Philosophical Society's Honorary Patronage, and posed for pictures and chatted about her life with students.
Article continues below advertisement
Courtney – who attended the institute for two semesters as a teenager – joins other famous faces including Bob Geldof, Naomi Campbell, David Hasselhoff and Al Pacino in receiving the honor.
The accolade is only awarded to people "whose contribution within their sphere is considered exceptional" and recipients are charged with "protecting the Society and using their good names to ensure its continued survival".
Meanwhile, a New York judge has ruled the rocker is liable for jewellery she failed to return after borrowing it for a charity event.
A lawsuit was filed last November by Jacob & Co who claimed Courtney borrowed two white gold and diamond chains, a white gold, floral-designed mesh bracelet and a pair of white gold and diamond hoop earrings but only returned the bracelet.
Ruling last Friday Judge Doris Ling-Sohan said Courtney was liable for the missing items – which the company valued at $113,700 – but wants a special referee to determine their value.