Courtney Love Penning New Tell-All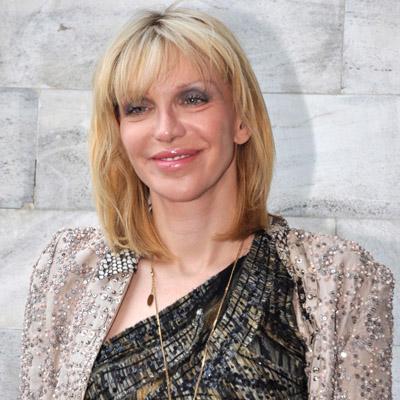 Courtney Love is writing a tell-all autobiography.
The Hole singer and widow of late Nirvana frontman Kurt Cobain hopes to "set the record straight" in the book, which is expected to cover her life as an aspiring musician, her marriage and drug problems, her attempted Hollywood career and the fortune of the Nirvana estate she claims to have been defrauded out of.
Details of what Courtney – who has one daughter, 19-year-old Frances Bean, with Kurt - intends to write are scarce at present, but she is known for her self-belief and being extremely opinionated, direct and forthright in her interviews and writing.
Article continues below advertisement
According to publishers William Morrow, the book will be a collaboration with writer Anthony Bozza who has written with INXS, Tommy Lee and Slash.
Among controversies the book may address are an incident when she apparently asked Hollywood writer Neil Strauss to join her in snorting her husband's ashes.
In his book Everyone Loves You When You Are Dead, Strauss explained: "She walks to a dresser, pulls open a drawer, and removes a square-shaped tin. She removes the lid, revealing a plastic bag full of white ashes. A faint smell of jasmine emanates from the tin.
"Courtney said, 'Too bad you don't do coke. Otherwise I'd suggest taking a metal straw to it.'
"I replied, 'Yeah, I don't think that would be the right thing to do.'
"She said, 'I'd like to though.'"
Courtney was also controversially rumored to have taken heroin when she was pregnant with Frances, but has maintained she gave up on drugs in 1996, although she admitted earlier this year she had relapsed in 2005 and tried to kill herself with a heroin overdose.
Article continues below advertisement
She said: "I promised I would never shoot heroin again, and I haven't, except for one incident in July 2005, where I shot myself up on purpose to kill myself."
As well as her marriage to Kurt, Courtney has had a string of famous lovers including Smashing Pumpkins rocker Billy Corgan, Blur bassist Alex James, ex-Oasis singer Liam Gallagher and Hollywood actor Edward Norton.
Courtney has previously written one other book, 2006's Dirty Blonde: The Diaries of Courtney Love, which consisted of years worth of personal photos, journal entries, song lyrics, letters, poems, and drawings.