Exclusive
Hoarding: Buried Alive Sneak Peek: Child Protective Services Called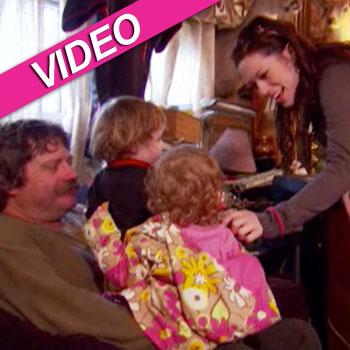 - RadarOnline.com Senior Reporter
In a shocking new episode of Hoarding: Buried Alive, Floyd is in danger of losing custody of his children as his hoarding reaches a dangerous level.
In this sneak peek obtained by RadarOnline.com, Floyd's two toddler children are shown in the filth he lives in.
His trailer is disgusting, absolutely covered in trash, with old mattresses, sofas and used clothing, and eventually Child Protective Services makes a visit to Floyd.
Article continues below advertisement
His older daughter Chelsea cries as she has to drop off her little sister Lily at their father's trailer.
"I feel bad for these kids," she says about Charlie, 2, and Lily, 1. "They can't take care of themselves yet. They don't know what's going on and it's just sad."
See the frightening lifestyle choices Floyd is making on Hoarding: Buried Alive on TLC Sunday, August 14 at 9/8c.
RELATED STORIES: